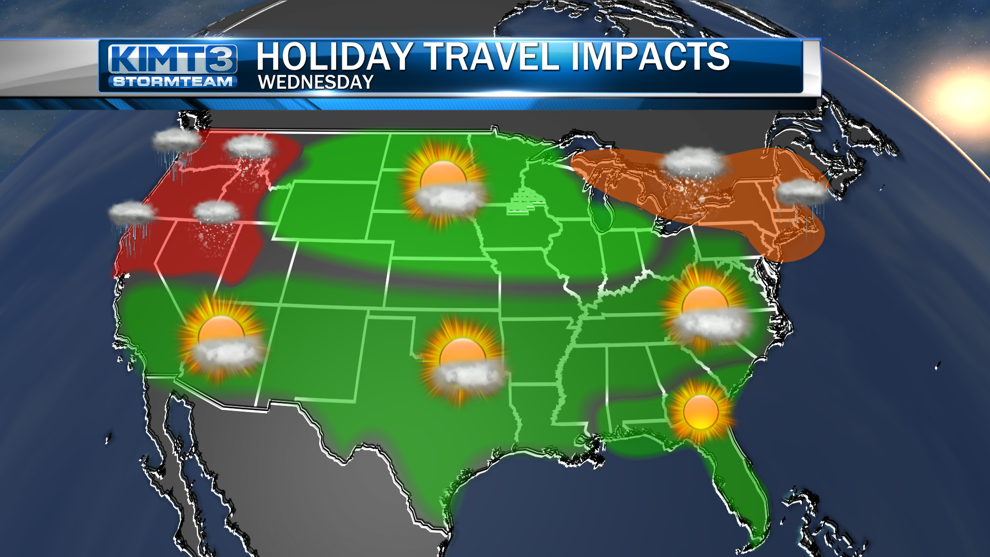 Millions will be hitting the roads and the skies this holiday week and with weather consistently evolving, it can cause headaches for those trying to reach their holiday destinations. Here's a brief outlook of what you could expect:
Wednesday
Wednesdays national forecast looks to be a smooth ride for many as a majority of the lower 48 will be dominated by a surging high pressure system. This will likely remain in control for much of the eastern half of the US as we approach Thursday. A brief shortwave will likely bring a fast stretch of snowfall north of the Twin Cities, and closer to Duluth Thursday evening as it rides the northern side of the departing high pressure.
Out west, a continued train of low pressure systems riding the northern extent of a Alaskan high, and cruising the British Columbia coastline will continue to present sloppy conditions for much of the Pacific northwest as rain and snow are likely.
Christmas Outlook
Christmas Eve (Friday)
High pressure will shift further south over the Florida peninsula by Friday morning presenting calm conditions. That high though will redirect the fast moving shortwave trough eastward that will bring snowfall north of the Twin Cities Thursday night. This could act a brief headache for parts of New England as travelers head out Christmas Eve morning when the system arrives. Enhanced southerly wind locally will allow for temperatures to surge into the mid 40s.
Back west, no change is expected as a continuation of rain and wintry mix will likely continue into areas like Seattle, while rain showers and high elevation snowfall will trek into California. That same moisture will then enter the Rockies and will slowly become a sight for us here at home to watch for the evening of Christmas day. 
Christmas Day (Saturday)
As snow and rain continue to plague the west, that moisture will enter the Rockies and work toward the upper Midwest where we could be talking about some snowfall the in the evening on Christmas Day. While snow amounts and forecast verification are not certain yet, this will be something to keep an eye on. That same system will then work east and arrive into the northeast by the early morning on Sunday the 26th.